Choosing Your Chevrolet Truck: Compact, Light, or Heavy Duty? | McKinney, TX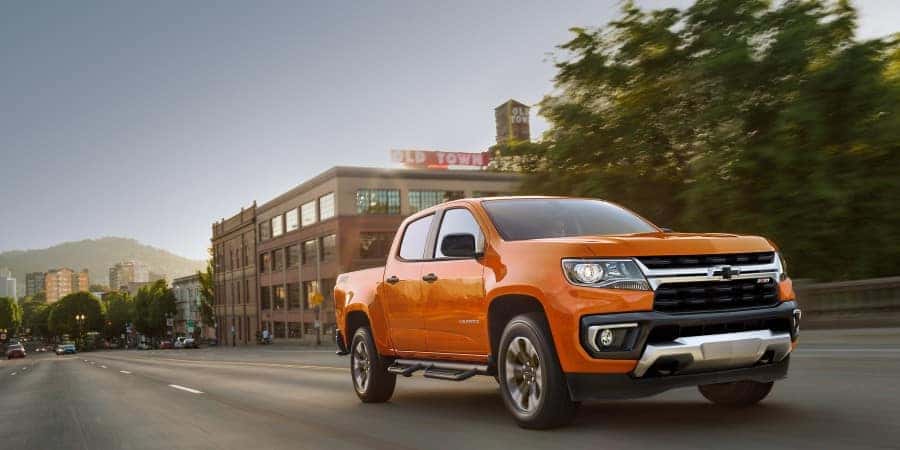 Here at El Dorado Chevrolet, we have a fully stocked inventory of Chevrolet pickup trucks, from the versatile Colorado and well-rounded Silverado 1500 to the massive Silverado 3500 HD. If you're shopping for a new or used truck in McKinney, Texas, it's important that you choose the type of truck that best meets your needs. To help you narrow down your search, here's a guide to the Chevrolet truck classes you'll find at El Dorado Chevrolet.
Compact Truck: Chevrolet Colorado
As the name suggests, the smallest truck in the Chevrolet lineup is the Colorado. Compact trucks like the Colorado have the trailering capacity of a mid-size SUV — for instance, the 2021 Colorado can tow up to 7,000 pounds with its available V6 engine, which is less than the limits of the Suburban and Tahoe SUVs. That's enough for a small camping trailer or personal watercraft.
Thus, compact trucks are more suited to everyday commutes in McKinney and the occasional need for hauling furniture or landscaping equipment (no more than 1,550 pounds) in its small 49.9-cubic-foot bed. They're also suitable for off-road excursions, especially if you pick the Colorado ZR2 or Z71.
Their small dimensions and light curb weight make compact trucks easy to maneuver, store, and conserve fuel. Plus, they're the most affordable new trucks to buy at El Dorado Chevrolet.
Light-Duty Truck: Chevrolet Silverado 1500
Light-duty trucks like the Silverado 1500 are the most popular pickup trucks on the market because of their versatility and well-rounded designs. If you want a truck that can do a bit of everything well, you should consider a light-duty Chevy truck.
The 2021 Silverado 1500 boasts nearly double the towing strength and bed size than the Colorado: 13,300 pounds and 89.1 cubic feet, respectively. As a light-duty truck, it offers bigger engine options, such as the massive 6.2-liter V8. Still, you can choose a small engine if you prefer, like the 2.7-liter Turbo four-cylinder.
That's what makes the Silverado so appealing: it offers endless combinations. Pick your cab size (crew, double, or regular), engine (six possibilities), trim level (a half-dozen options), bed length (short, standard, or long), and accessories. If you're willing to spend some extra money to ensure you get a truck that's personalized to suit your needs, consider the light-duty Silverado.
Heavy-Duty Truck: Chevrolet Silverado HD
If size and power are your only priorities when you're shopping for a truck, you'd better go big with a heavy-duty Silverado. The 2500 HD or 3500 HD are the biggest, most powerful trucks in the Chevrolet lineup.
You don't have to worry about pushing a heavy-duty truck past its limits, since it's designed to take the toughest work in town. At its absolute maximum, the 2021 Silverado 3500 HD can tow up to 36,000 pounds — which allows it to handle fifth-wheel or double-axle trailers with weight-distributing hitches.
Heavy-duty trucks offer many of the same performance and safety features found in smaller Chevrolet trucks, like the Durabed and StabiliTrak®, but excel in terms of size and strength. You won't find a bigger Chevy engine than the Duramax® 6.6-liter Turbo-Diesel V8.
---
Once you've decided which truck class you prefer, it's time to pick the trim, engine, and cab configuration you like most. Browse our Chevy truck inventory now to see the available options or visit El Dorado Chevrolet in McKinney, Texas, in person to discuss how we can help custom order a work truck for you.