Why Service at El Dorado Chevrolet | McKinney, TX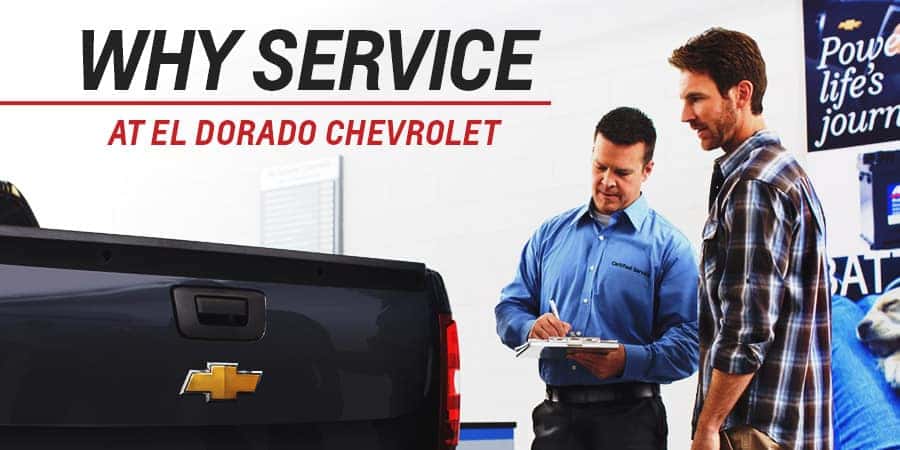 If your vehicle needs routine maintenance or more extensive repairs, you've got two main places to turn: a corner garage or a dealership. While servicing with an independent mechanic may initially seem appealing, the work performed by the certified technicians at a dealership like El Dorado Chevrolet comes with numerous advantages that will benefit you in both the short term and the long run.
Expert Technicians
When you go to your local garage for repairs, odds are the on-site mechanics have been trained as jacks of all trades, whereas the employees at El Dorado Chevrolet are certified masters. Our entire service staff has undergone extensive education by Chevrolet itself, ensuring that they know your vehicle inside and out. That means they will be able to identify problems quickly, correct them with precision, and have you back on the road in no time.
State-of-the-Art Equipment
Whether your vehicle needs a routine tire rotation, a quick part swap, or full-body repairs, only dealerships like El Dorado Chevrolet are properly equipped to provide the care it deserves. First, we exclusively use original equipment manufacturer components, which are generally of a higher quality than the aftermarket replacements you'll find at a corner shop. Next, our facilities are stocked with the newest and most advanced tools on the market, most of which are provided to us directly by Chevrolet. If that's not enough, our Collision Center has been serving the McKinney community for more than 40 years, and we'll use every bit of that experience to make sure we return your car to its former glory.
Guarantees
If your Chevrolet model is still under warranty, we'll perform applicable maintenance free of charge. That's simply not something you can expect from an independent mechanic, as they have no affiliation with any automaker. Plus, since we only use OEM parts and accessories, you don't have to worry about potentially voiding a warranty by installing a third-party component.
---
For all of your maintenance needs, don't hesitate to contact our service department or schedule an appointment at El Dorado Chevrolet in McKinney, Texas.