El Dorado Collision Repair Center/Body Shop Located in Mckinney, TX
El Dorado Collision Repair Body Shop located in McKinney, Texas, is the oldest standing Body Shop in McKinney. Some of our Body Shop employees have been with us for over 20-years. Their extensive experience ensures our McKinney Body Shop customers receive the best possible Body Shop experience. Conveniently located, we service customers who need a Body Shop in Frisco, or a Body Shop in Allen.
We were recently rated #1 Body Shop in North Texas, by Farmers Insurance™, for the second year in a row. Whether you are looking for a dependable Body Shop in Allen or a Body Shop in Frisco, the short 10-minute drive to our McKinney Body Shop will be worth it.
Why Customers Choose El Dorado Collision Repair Center
We repair all makes and models, and we work with all the Major Insurance carriers. At El Dorado Collision Repair in McKinney, you will receive a Lifetime Warranty on all body and paint repairs. Whether you are looking for a Body Shop in Allen or a Body Shop in Frisco, we want to be your Body Shop of choice.
Our Certified Service technicians are trained by GM to know every inch of your GM vehicle. We understand your vehicle and all its technical systems. We're proud to offer genuine GM parts. We know you want to feel as good about your vehicle today as you did the day you bought it. Our Certified Service technicians have the skills and finesse you need to restore your vehicle so it will look and feel like new.
We will create a written estimate of what's recommended to complete the repair, and we will offer Genuine GM Parts.
In addition, if there is other service work that is required to restore your vehicle to pre-accident condition, unlike some Body Shops in McKinney, we have Certified Service technicians on hand. We will review this estimate with you and address any questions you may have.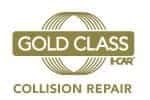 I-Car Gold Class Body Shop in McKinney, Texas Your Frisco Body Shop and Allen Body Shop
Whether you are looking for a Frisco Body Shop or an Allen Body Shop, vehicle owners need to know that their vehicles have been repaired safely by collision repair professionals who have the knowledge to do the job.
The I-CAR Gold Class Professionals™ symbol is one way to determine that a collision repair facility is committed to providing the training necessary to keep its team up-to-date on the most current vehicle technology and repair procedures.
The I-CAR Gold Class Professionals® designation is the highest training level recognized in the collision industry.
For a business to earn Gold Class recognition, four key employees must be designated as Role Reps and achieve Platinum in the following roles: Refinish Technician, Steel Structural Technician, Non-Structural Technician, and Estimator.
To renew Gold Class, each Role Rep must complete his/her Knowledge Area training requirements for the next ProLevel they are working toward in the I-CAR® Professional Development Program™ (PDP), while other employees involved in the collision repair process must take six credit hours of role-relevant training.
Read Some Reviews About Our Mckinney Body Shop
In today's world of non-existent or poor customer service, it was completely unexpected to find a well organized, friendly, competent staff in a clean environment. I am an "attention to detail" guy. I was literally blown away at the attention to detail of your staff, beginning with Mike Cortez. He appeared to never be caught off guard because he was prepared, handled my service as if it were his only assignment, and did it with first-class delivery. Well done, guys. Well done. Maloney, William M.
I am a former GM Dealership owner. The service and attention I received from Mike Cortez was outstanding. I will certainly use your Body Shop if the need ever arises again. I will also tell everyone I know. Burns, Richard
The service I received from your facility regarding the repair of my vehicle has probably been the best service I have ever received from any service provider. It was a very pleasant experience! James, Julie
This is probably our fourth or fifth time to use your facility. Always and excellent service and the work is as good as I have ever received anywhere. Better than most. Your advisor Scott was very good. Norwood, Daisy
It was a pleasure working with everyone. Not only was everyone helpful and pleasant but they made sure I had another car immediately. I would highly recommend El Dorado Dealership and repair to anyone I spoke to. Brian Northington was the best and everyone there should be complimented. Thanks for you making my experience delightful instead of Horrible. Fettig, Richard Scott was very kind and professional through the whole process. He made it very painless through a stressful time.
GREAT JOB! I picked up my car yesterday afternoon and it looked great. Many thanks to Scott Duerr for excellent customer service! Quick responses to my questions throughout and excellent follow-up. I will definitely refer both Scott and Eldorado to friends and colleagues. Thanks. Job Well done.
I so appreciate this website. This is so reassuring. I am so glad that I choose your facility for the repairs to my daughter's car. Past experiences have left us with a poorly repaired car. I have no qualms putting my child back in her car. Thanks!
This is by far the best repair experience I have ever had. Mainly due to the "My Repair Tracker" It's great to have a place that provides real time feedback. I love this website…It's nice to be able to come out here and see the status on things instead of bugging the shop for a status.
I love this website…It's nice to be able to come out here and see the status on things instead of bugging the shop for a status.
Get Directions To Our Dealership